Photo Essay
Law School Life Through the Lens
On Dec. 13, Berkeley Law's Development and Alumni Relations team feted graduates who recently passed the California Bar Exam with a spirited
swearing-in ceremony
and reception at the law school.
EVENT EMCEES
(From left) Dean Erwin Chemerinsky, U.S. District Court Judge Trina Thompson '86, California Courts of Appeal Associate Justice Jon B. Streeter '81, and Berkeley Law Alumni Association representative Nicole Ozer '03 ushered in the newly minted lawyers.
STANDING TALL
Beatrice Nybert LL.M. '19, an associate at DLA Piper in Stockholm, returns to Berkeley.
HIGH FIVES
(From left) LL.M. graduates Yu-Hsuan Cheng '16, Ashka Vora '16, Shih-Ya Huang '22, and Sumedh Rishi '22 take the California state court oath.
If a picture is worth 1,000 words, Berkeley Law's robust student life is worth 1,000 photos. Here are just a few that showcase some of the many wide-ranging experiences our students enjoy on and off campus.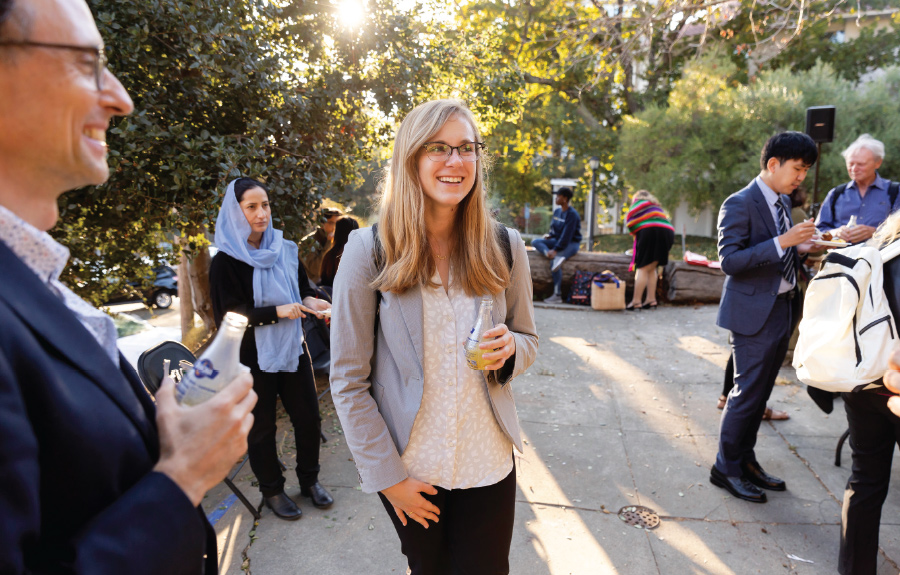 Photo by Brittany Hosea-Small
JOLLY GOOD FELLOWS
1L Anna Judson, who worked with the National Foster Youth Institute last summer, takes part in a
Human Rights Center fellows
reception.
TALKING SHOP
Jamal Jackson (right), a Public Resources Defense Council litigation fellow, speaks to students at our
Public Interest Career Fair
.
GOTHAM GLADIATORS
2Ls Kira Nikolaides, Danny Drane, and Theo Curie, led by coach
Ted Pelletier
(left), competed in the National Moot Court Competition in New York City after winning their regional rounds in Orange, Calif.
Photo by Sascha Nour Fawaz
SIGNING UP
Berkeley Law students, more than 95% of whom do
pro bono work
before graduating, list their reasons for volunteering time and expertise at a national Pro Bono Week event.
The first year of law school can be quite an adjustment. Berkeley Law faculty members ease that transition by coordinating an array of fun outings and activities for 1Ls in their small mod groups.
Photo by Sascha Nour Fawaz
Photo by Sascha Nour Fawaz
FOOD WITH A VIEW
Jerusalem Hadush and classmates in Professor
Jonathan D. Glater
's mod (above and right) savor a food truck outing at Berkeley's Cesar Chavez Park.
Photo by Sascha Nour Fawaz
NAMASTE
Professor
Khiara M. Bridges
wastes no time imparting the need for self-care: "I know that the received 'wisdom' is that during their first year of law school, 1Ls should stop doing everything they've once loved and instead spend every waking hour briefing cases, outlining, and panicking about final exams. I think that's the worst thing for 1Ls to do. I chose to do yoga with my students because I wanted to encourage them to take care of themselves — physically, mentally, emotionally. They should definitely spend time figuring out
mens rea
and accomplice liability. But they should also make time to do things that simply make them happy."
Photo by Sascha Nour Fawaz
HOME COOKING
Professor
Chuck Weisselberg
(right) hosts his 1L mod for a Sunday afternoon lunch.
Our
new series on Instagram
celebrates the voices of students, faculty, and staff who make the school so extraordinary. Meet some of them here.
Photo by Cheska Torres Ibasan
DEMYSTIFYING DIVERSITY
Growing up in predominantly white spaces, 3L Kendrick Peterson was made aware of his identities as a queer and Black scholar at a young age. His 2018 TEDx talk addressed how institutionalism propels the importance of celebrating diversity in all forms, something he has done throughout his law school endeavors: on pro bono projects, as Student Association at Berkeley Law co-president and
California Law Review
associate editor, and through activities with Berkeley Law's Queer Caucus, Law Students of African Descent, and Mock Trial Team.
In his commercial practice, he hopes to focus on private sector litigation, white collar investigations, and higher education regulatory work, and impact federal advocacy on behalf of marginalized groups. Says Peterson: "We cannot continue to operate as if victories on behalf of vulnerable communities are set in stone."
Photo by Cheska Torres Ibasan
CLIMATE CHANGER
An Indigenous lawyer and environmental activist, Nazune Menka helps Berkeley Law students take a broad view of their legal work as a supervising attorney at our Environmental Law Clinic. Having advocated for policy reforms at both the Alaska and Hawaii state legislatures, she brings valuable expertise in areas such as Indigenous human rights, tribal sovereignty, and climate change management.
"For Indigenous peoples around the world, climate change has long been more than an abstract, futuristic possibility," Menka says. "It has been a reality affecting the harvesting of our traditional foods and ability to hunt and fish, affecting our ability to live on our ancestral homelands, and changing a way of life that we have been living since time immemorial."
Photo by Cheska Torres Ibasan
CIVIL RIGHTS SCHOLAR
2L Traelon Rodgers was one of 10 incoming law students born or raised in the South who were selected to the NAACP Legal Defense Fund's Marshall-Motley Scholars Program in 2021 out of 400-plus applicants. It gives full scholarships, training, and post-grad fellowships to students who commit to working for at least eight years on civil rights in the South after getting their J.D.s.
A former NAACP national board member who at 21 was elected its youngest ever national assistant secretary, Rodgers works for social justice through many service and activism pursuits. "Leadership is compassion, vision, and direction," he says. "Leadership means to press on even when it doesn't feel fun — but most importantly, leadership means that someone is counting on you. A leader with no followers is merely talking a walk."
Photo by Cheska Torres Ibasan
FILLING A VOID
Latinas make up less than 2% of America's lawyers, and less than 1% of partners at U.S. firms. Mariana Acevedo Nuevo LL.M. '19, a supervising attorney at our New Business Community Law Clinic, aims to help change that while pursuing her career assisting immigrant entrepreneurs. "As a clinic student, I realized how impactful our work was: We help people kick-start their companies and give them tools to realize their dreams and make a living."
Before moving to the U.S., Acevedo Nuevo represented clients before the Mexican Economic Competition Commission, including Latin America's leading e-commerce technology company and one of Mexico's five busiest container ports. She now relishes "trying to bridge the immense gap in access to legal services" by helping "people who don't have the resources to hire lawyers."